This year I will be speaking at the SCOMathon 2021 conference on June 8-9, 2021. This two-day online event is a fantastic resource for anyone involved with management and monitoring tools and technologies. I'm joining my friends fellow Microsoft MVPs and Microsoft management professionals Bob Cornelissen, Cameron Fuller, Kevin Greene, Dieter Wijckmans sharing knowledge, tips, and strategies with our peers and colleagues around the world. Last year over 1,000 people participated and this year I expect as many or more will tune in to watch and participate.
There will be a large group of community members listening to the sessions which start early and end late (16 hours per day). Actually, the sessions are split in 2 blocks of 8 hours and on the second day the same sessions will be presented in the other time zone block.
My session is titled "SCOM or Azure Monitor – when to use which".

Session times are:
Tuesday June 8

,

2:25 PM -3:10 PM (Central US Daylight Time)

20:25 – 21:10 (British Summer Time)


Wednesday June 9

,

9:25 PM -10:10 AM (Central US Daylight Time)

15:05 – 15:50 (British Summer Time)

It's an all-original 45-minute session with this agenda: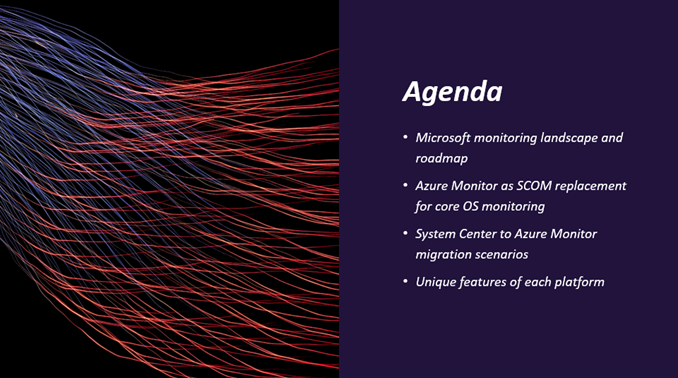 An interesting thing about SCOMathon 2021 is that the breakout sessions are pre-recorded on two HD video streams, one with slides and demos, the other with speaker camera view. During the session, attendees will watch a synchronized merge of both streams for an 'in person' feel. During both sessions, I will be live in a Slack session to chat and answer questions: https://scomathon.slack.com/join which seems to me to be a great opportunity for learning and knowledge sharing.
Hope to see you all there at SCOMathon for all the great content!
Tags: #MVPBuzz #SCOM #sysctr #AzureMonitor #AzureArc #VMInsights